The Well-Gardened Mind
The 'Well-Gardened Mind' is a unique book published in mid-2020. It describes, with many examples how our well-being can be affected and restored through contact with gardening. While members of our club, during our own session "Why I am a Gardener", described how gardening gave them pleasure and relaxation of the brain, in a world full of stress, this book by UK renowned psychiatrist and psychoanalyst Dr Sue Stuart-Smith, goes beyond that and indicates just how we can make best use of our hobby.
It is well worth reading and hopefully will generate ideas of how we can help others benefit from our pastime, especially those that from time to time suffer from depressive illness.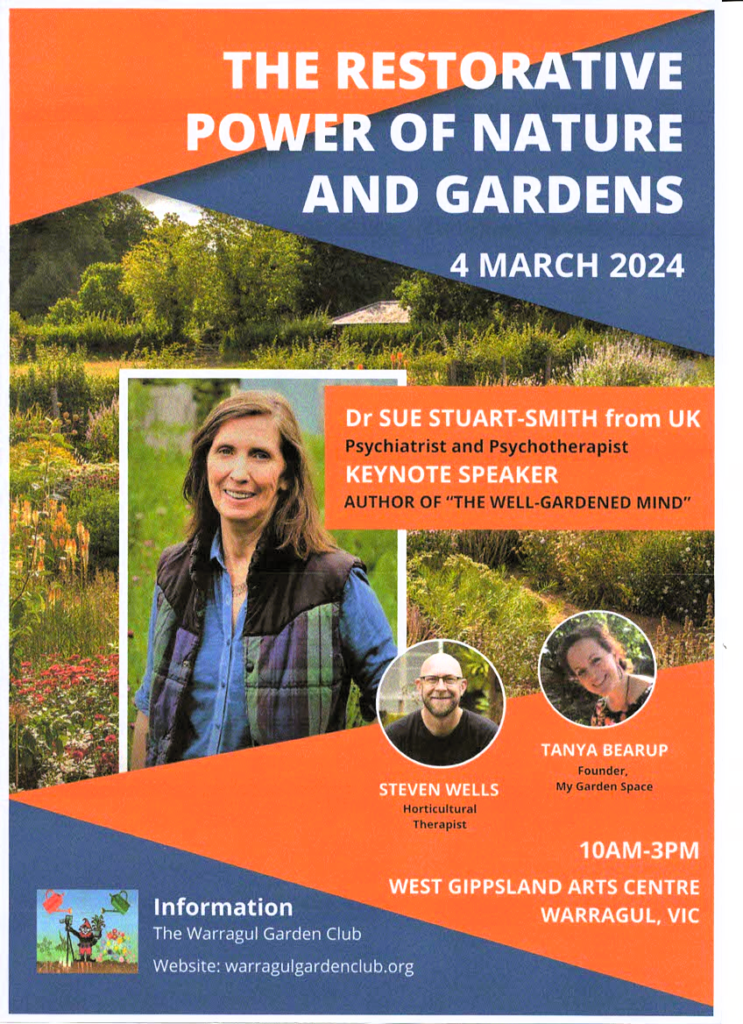 Dr Stuart-Smith is being hosted by the Warragul Garden Club to visit Australia during March 2024, and will visit Warragul on 4th /5th March. The Club is in the process of raising sufficient funds to pay for this visit and is arranging both local and national support and funding.
The programme for the day (4th March) to be held at the West Gippsland Arts Centre is as follows: —
10.00am—Doors Open, access to exhibits and morning tea & Coffee.
10.45 am—Welcome by Mayor, Local MP etc.
11.00am – Keynote Speaker, Dr Sue Stuart-Smith, Psychiatrist, Psychoanalyst & Author of the "Well-Gardened Mind".
12.Noon—Lunch Break, Access to exhibits & book purchases.
1.00pm—Speaker, Steven Wells, Horticultural Therapist & nurse at Austin Health Well-being Project, Melbourne.
1.40pm—Speaker, Tanya Bearup, founder of "My Garden Space" Social & Therapeutic Gardening Service, Melbourne. .
2.20pm– Short break
2.30pm – Panel Discussion & General Question & Answer Session. Plus "Where to from Here".
3.00pm—Presentations, followed by book signings, delegates disperse.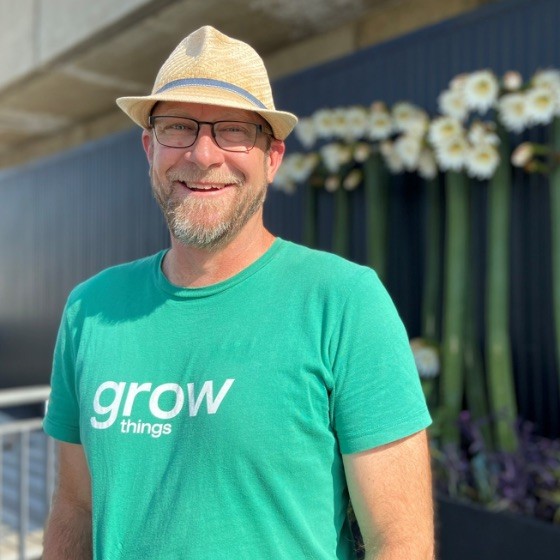 Steven Wells, Nurse, Horticultural Therapist & Gardener